TUFFALOY NUT AND STUD WELDING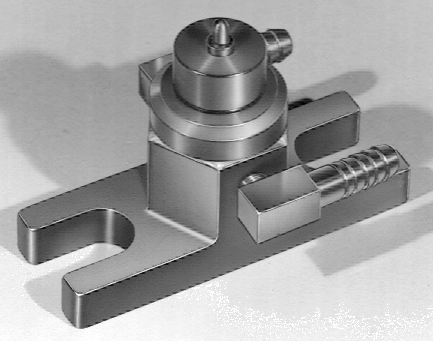 The various types and syzes of TUFFALOY stud-and-nut welding electrodes and holders are described below and elsewhere. For excessive wear applications any of these electrodes may be ordered with refractory metal facings, such as TUFFALOY 10W.
Stud Electrodes-Tuffaloy stud electrode tips are for projection-welding screws, bolts or pins, whether they pass through the sheet or are to be attached directly to its face.
Nut Electrodes-Tuffaloy projection weld nut electrodes are designed for either self-piloted or non-piloted nuts. The pilots of the non-piloted-nut electrodes are spring-loaded so they cannot interfere with the contacting of nut and sheet under welding pressure.
STUD ELECTRODES

A

B

C

Description

Item Number

With 10W Face Refractory - Item Number

.150
2-1/4
1
400
175-4001
175-4001-10W
.164
401
175-4011
175-4011-10W
.190
402
175-4021
175-4021-10W
.216
403
175-4031
175-4031-10W
1/4
404
175-4041
175-4041-10W
5/16
405
175-4051
175-4051-10W
3/8
406
175-4061
175-4061-10W
6mm
506
175-5061
175-5061-10W
7mm
507
175-5071
175-5071-10W
9mm
509
175-5091
175-5091-10W
10mm
510
175-5101
175-5101-10W
3/8
2-3/4
1-1/2
436
175-4361
175-4361-10W
7/16
437
175-4371
175-4371-10W
1/2
438
175-4381
175-4381-10W
9/16
439
175-4391
175-4391-10W
5/8
440
175-4401
175-4401-10W
11/16
441
175-4411
175-4411-10W
3/4
442
175-4421
175-4421-10W
10mm
510-2
175-5102
175-5102-10W
12mm
512-2
175-5122
175-5122-10W
SELF-PILOTED-NUT ELECTRODES

D

For Nut Diameter

E

Pin Length

F

Electrode Length

G

Electrode Diameter

Description

Item Number

With 10W Face Refractory - Item Number

.164
3/16
2-1/4
1
411
175-4111
175-4111-10W
.190
3/16
412
175-4121
175-4121-10W
.216
1/4
413
175-4131
175-4131-10W
1/4
5/16
414
175-4141
175-4141-10W
5/16
5/16
415
175-4151
175-4151-10W
3/8
3/8
416
175-4161
175-4161-10W
6mm
1/4
606
175-6061
175-6061-10W
7mm
5/16
607
175-6071
175-6071-10W
9mm
3/8
609
175-6091
175-6091-10W
10mm
3/8
610
175-6101
175-6101-10W
3/8
3/8
2-3/4
1-1/2
456
175-4561
175-4561-10W
7/16
3/8
457
175-4571
175-4571-10W
1/2
7/16
458
175-4581
175-4581-10W
9/16
7/16
459
175-4591
175-4591-10W
5/8
1/2
460
175-4601
175-4601-10W
11/16
1/2
461
175-4611
175-4611-10W
3/4
5/8
462
175-4621
175-4621-10W
10mm
3/8
610-2
175-6102
175-6102-10W
12mm
7/16
612-2
175-6122
175-6122-10W
NON-PILOTED-NUT ELECTRODES

H

For Nut Diameter

J

Pilot Diameter

K

Electrode Length

L

Electrode Diameter

Description

Item Number

With 10W Face Refractory - Item Number

.164
0.18
2-1/4
1
421
175-4211
175-4211-10W
.190
0.215
422
175-4221
175-4221-10W
.216
0.24
423
175-4231
175-4231-10W
1/4
0.275
424
175-4241
175-4241-10W
5/16
0.345
425
175-4251
175-4251-10W
3/8
0.405
426
175-4261
175-4261-10W
6mm
0.261
706
175-7061
175-7061-10W
7mm
0.3
707
175-7071
175-7071-10W
9mm
0.385
709
175-7091
175-7091-10W
10mm
0.425
710
175-7101
175-7101-10W
3/8
0.437
2-3/4
1-1/2
476
175-4761
175-4761-10W
7/16
0.562
477
175-4771
175-4771-10W
1/2
0.625
478
175-4781
175-4781-10W
9/16
0.687
479
175-4791
175-4791-10W
5/8
0.75
480
175-4801
175-4801-10W
10mm
0.453
710-2
175-7102
175-7102-10W
12mm
0.595
712-2
175-7122
175-7122-10W