STANDARD STRAIGHT TIPS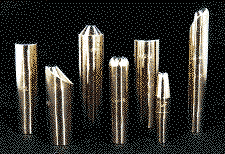 TUFFALOY STANDARD STRAIGHT TIPS are distinguished for highest conductivity and resistance to deformation, which are the two major requirements of resistance welding tips. Modern manufacturing methods and constant scientific quality control make the difference, starting with the alloying of pure copper, through bar extrusion , and the conversion of this high-quality bar stock into welding tips.
TUFFALOY ensures conformity to all standard dimensions. Before shipment, all tips must pass inspection by gauge for uniform length, taper, and outline of point. A passivation process that eliminates excessive oxidation gives TUFFALOY tips that bright shiny look. It reflects the deep-down quality built into these tips and into all TUFFALOY products.
Only RWMA Class 1 (TUFFALOY 88) and Class 2 (TUFFALOY 77) tips are listed here. Class 3 alloy (TUFFALOY 55) tips are also available. For recommended uses of these alloys, See TUFFALOY FAST-FOLLOW-UP HOLDERS
To order Class 3 alloy tips, change description code to indicated it: see "Key to Description".
For extracting 4RW and 5RW tips, use TOGGLE-TYPE MALE CAP EXTRACTOR, model EX-4.
KEY TO DESCRIPTION

EXAMPLE: E-2510

TAPER ENGAGEMENT

TIP SIZE

LENGTH

4 RW

1/2-in.

5 RW

3/4-in.

6 RW

7/8-in.

7 RW

1-1/8-in.

E

2

5

10

NOSE
DESIGNATION

RWMA ALLOY
CLASS

RW TAPER
NO.

LENGTH IN
1/4-IN.
INCREMENTS

A

B

C

D

E

F

1

2

Z

4 RW

5RW

6RW

7RW

4 to 48
A POINTED NOSE
'A' POINTED NOSE

RWMA CLASS 1

RWMA CLASS 2

A

Overall
Length

C

Welding
Face
Diameter

D

Gauging
Diameter

E

Water
Hole
Depth

F

Water
Hole
Diameter

B

Nose
Length

Description

Item No.

Description

Item No.

NO. 4 RW TAPER .500" DIAMETER
1

1-1/4

1-1/2

1-3/4

2

2-1/4

2-1/2

2-3/4

3

3-1/4

3-1/2

3-3/4

4

3/16

3/16

3/16

3/16

3/16

3/16

3/16

3/16

3/16

3/16

3/16

3/16

3/16

.463

.463

.463

.463

.463

.463

.463

.463

.463

.463

.463

.463

.463

1/2

3/4

1

1-1/4

1-1/2

1-3/4

2

2-1/4

2-1/2

2-3/4

3

3-1/4

3-1/2

9/32

9/32

9/32

9/32

9/32

9/32

9/32

9/32

9/32

9/32

9/32

9/32

9/32

3/8

3/4

3/4

3/4

3/4

3/4

3/4

3/4

3/4

3/4

3/4

3/4

3/4

A-1404

A-1405

A-1406

A-1407

A-1408

A-1409

A-1410

A-1411

A-1412

A-1413

A-1414

A-1415

A-1416

131-1404

131-1405

131-1406

131-1407

131-1408

131-1409

131-1410

131-1411

131-1412

131-1413

131-1414

131-1415

131-1416

A-2404

A-2405

A-2406

A-2407

A-2408

A-2409

A-2410

A-2411

A-2412

A-2413

A-2414

A-2415

A-2416

132-2404

132-2405

132-2406

132-2407

132-2408

132-2409

132-2410

132-2411

132-2412

132-2413

132-2414

132-2415

132-2416

NO. 5 RW TAPER 5/8" DIAMETER
1-1/4

1-1/2

1-3/4

2

2-1/4

2-1/2

2-3/4

3

3-1/4

3-1/2

3-3/4

4

1/4

1/4

1/4

1/4

1/4

1/4

1/4

1/4

1/4

1/4

1/4

1/4

.613

.613

.613

.613

.613

.613

.613

.613

.613

.613

.613

.613

3/4

3/4

1

1-1/4

1-1/2

1-3/4

2

2-1/4

2-1/2

2-3/4

3

3-1/4

3/8

3/8

3/8

3/8

3/8

3/8

3/8

3/8

3/8

3/8

3/8

3/8

1/2

7/8

7/8

7/8

7/8

7/8

7/8

7/8

7/8

7/8

7/8

7/8

A-1505

A-1506

A-1507

A-1508

A-1509

A-1510

A-1511

A-1512

A-1513

A-1514

A-1515

A-1516

131-1505

131-1506

131-1507

131-1508

131-1509

131-1510

131-1511

131-1512

131-1513

131-1514

131-1515

131-1516

A-2505

A-2506

A-2507

A-2508

A-2509

A-2510

A-2511

A-2512

A-2513

A-2514

A-2515

A-2516

132-2505

132-2506

132-2507

132-2508

132-2509

132-2510

132-2511

132-2512

132-2513

132-2514

132-2515

132-2516

NO. 6 RW TAPER 3/4" DIAMETER
2

2-1/2

3

3-1/2

4

9/32

9/32

9/32

9/32

9/32

.731

.731

.731

.731

.731

1-1/4

1-3/4

2-1/4

2-3/4

3-1/4

7/16

7/16

7/16

7/16

7/16

1

1

1

1

1

A-1608

A-1610

A-1612

A-1614

A-1616

131-1608

131-1610

131-1612

131-1614

131-1616

A-2608

A-2610

A-2612

A-2614

A-2616

132-2608

132-2610

132-2612

132-2614

132-2616

NO. 7 RW TAPER 7/8" DIAMETER
2

2-1/2

3

3-1/2

4

5/16

5/16

5/16

5/16

5/16

.844

.844

.844

.844

.844

1-1/4

1-3/4

2-1/4

2-3/4

3-1/2

1/2

1/2

1/2

1/2

1/2

1-1/8

1-1/8

1-1/8

1-1/8

1-1/8

A-1708

A-1710

A-1712

A-1714

A-1716

131-1708

131-1710

131-1712

131-1714

131-1716

A-2708

A-2710

A-2712

A-2714

A-2716

132-2708

132-2710

132-2712

132-2714

132-2716
B DOME NOSE
'B' DOME NOSE

RWMA CLASS 1

RWMA CLASS 2

A

Overall
Length

C

Welding
Face
Diameter

D

Gauging
Diameter

E

Water
Hole
Depth

F

Water
Hole
Diameter

B

Nose
Length

Description

Item No.

Description

Item No.

NO. 4 RW TAPER .500" DIAMETER
1

1-1/4

1-1/2

1-3/4

2

2-1/4

2-1/2

2-3/4

3

3-1/4

3-1/2

3-3/4

4

3/16

3/16

3/16

3/16

3/16

3/16

3/16

3/16

3/16

3/16

3/16

3/16

3/16

.463

.463

.463

.463

.463

.463

.463

.463

.463

.463

.463

.463

.463

1/2

3/4

1

1-1/4

1-1/2

1-3/4

2

2-1/4

2-1/2

2-3/4

3

3-1/4

3-1/2

9/32

9/32

9/32

9/32

9/32

9/32

9/32

9/32

9/32

9/32

9/32

9/32

9/32

1/4

1/4

1/4

1/4

1/4

1/4

1/4

1/4

1/4

1/4

1/4

1/4

1/4

B-1404

B-1405

B-1406

B-1407

B-1408

B-1409

B-1410

B-1411

B-1412

B-1413

B-1414

B-1415

B-1416

133-1404

133-1405

133-1406

133-1407

133-1408

133-1409

133-1410

133-1411

133-1412

133-1413

133-1414

133-1415

133-1416

B-2404

B-2405

B-2406

B-2407

B-2408

B-2409

B-2410

B-2411

B-2412

B-2413

B-2414

B-2415

B-2416

134-2404

134-2405

134-2406

134-2407

134-2408

134-2409

134-2410

134-2411

134-2412

134-2413

134-2414

134-2415

134-2416

NO. 5 RW TAPER 5/8" DIAMETER
1-1/4

1-1/2

1-3/4

2

2-1/4

2-1/2

2-3/4

3

3-1/4

3-1/2

3-3/4

4

1/4

1/4

1/4

1/4

1/4

1/4

1/4

1/4

1/4

1/4

1/4

1/4

.613

.613

.613

.613

.613

.613

.613

.613

.613

.613

.613

.613

3/4

3/4

1

1-1/4

1-1/2

1-3/4

2

2-1/4

2-1/2

2-3/4

3

3-1/4

3/8

3/8

3/8

3/8

3/8

3/8

3/8

3/8

3/8

3/8

3/8

3/8

3/8

3/8

3/8

3/8

3/8

3/8

3/8

3/8

3/8

3/8

3/8

3/8

B-1505

B-1506

B-1507

B-1508

B-1509

B-1510

B-1511

B-1512

B-1513

B-1514

B-1515

B-1516

133-1505

133-1506

133-1507

133-1508

133-1509

133-1510

133-1511

133-1512

133-1513

133-1514

133-1515

133-1516

B-2505

B-2506

B-2507

B-2508

B-2509

B-2510

B-2511

B-2512

B-2513

B-2514

B-2515

B-2516

134-2505

134-2506

134-2507

134-2508

134-2509

134-2510

134-2511

134-2512

134-2513

134-2514

134-2515

134-2516

NO. 6 RW TAPER 3/4" DIAMETER
2

2-1/2

3

3-1/2

4

9/32

9/32

9/32

9/32

9/32

.731

.731

.731

.731

.731

1-1/4

1-3/4

2-1/4

2-3/4

3-1/4

7/16

7/16

7/16

7/16

7/16

3/8

3/8

3/8

3/8

3/8

B-1608

B-1610

B-1612

B-1614

B-1616

133-1608

133-1610

133-1612

133-1614

133-1616

B-2608

B-2610

B-2612

B-2614

B-2616

134-2608

134-2610

134-2612

134-2614

134-2616

NO. 7 RW TAPER 7/8" DIAMETER
2

2-1/2

3

3-1/2

4

5/16

5/16

5/16

5/16

5/16

.844

.844

.844

.844

.844

1-1/4

1-3/4

2-1/4

2-3/4

3-1/2

1/2

1/2

1/2

1/2

1/2

3/8

3/8

3/8

3/8

3/8

B-1708

B-1710

B-1712

B-1714

B-1716

133-1708

133-1710

133-1712

133-1714

133-1716

B-2708

B-2710

B-2712

B-2714

B-2716

134-2708

134-2710

134-2712

134-2714

134-2716
C FLAT NOSE
'C' FLAT NOSE

RWMA CLASS 1

RWMA CLASS 2

A

Overall
Length

D

Gauging
Diameter

E

Water
Hole
Depth

F

Water
Hole
Diameter

C

Welding
Face
Diameter

Description

Item No.

Description

Item No.

NO. 4 RW TAPER .500" DIAMETER
1

1-1/4

1-1/2

1-3/4

2

2-1/4

2-1/2

2-3/4

3

3-1/4

3-1/2

3-3/4

4

.463

.463

.463

.463

.463

.463

.463

.463

.463

.463

.463

.463

.463

1/2

3/4

1

1-1/4

1-1/2

1-3/4

2

2-1/4

2-1/2

2-3/4

3

3-1/4

3-1/2

9/32

9/32

9/32

9/32

9/32

9/32

9/32

9/32

9/32

9/32

9/32

9/32

9/32

1/2

1/2

1/2

1/2

1/2

1/2

1/2

1/2

1/2

1/2

1/2

1/2

1/2

C-1404

C-1405

C-1406

C-1407

C-1408

C-1409

C-1410

C-1411

C-1412

C-1413

C-1414

C-1415

C-1416

135-1404

135-1405

135-1406

135-1407

135-1408

135-1409

135-1410

135-1411

135-1412

135-1413

135-1414

135-1415

135-1416

C-2404

C-2405

C-2406

C-2407

C-2408

C-2409

C-2410

C-2411

C-2412

C-2413

C-2414

C-2415

C-2416

136-2404

136-2405

136-2406

136-2407

136-2408

136-2409

136-2410

136-2411

136-2412

136-2413

136-2414

136-2415

136-2416

NO. 5 RW TAPER 5/8" DIAMETER
1-1/4

1-1/2

1-3/4

2

2-1/4

2-1/2

2-3/4

3

3-1/4

3-1/2

3-3/4

4

.613

.613

.613

.613

.613

.613

.613

.613

.613

.613

.613

.613

3/4

3/4

1

1-1/4

1-1/2

1-3/4

2

2-1/4

2-1/2

2-3/4

3

3-1/4

3/8

3/8

3/8

3/8

3/8

3/8

3/8

3/8

3/8

3/8

3/8

3/8

5/8

5/8

5/8

5/8

5/8

5/8

5/8

5/8

5/8

5/8

5/8

5/8

C-1505

C-1506

C-1507

C-1508

C-1509

C-1510

C-1511

C-1512

C-1513

C-1514

C-1515

C-1516

135-1505

135-1506

135-1507

135-1508

135-1509

135-1510

135-1511

135-1512

135-1513

135-1514

135-1515

135-1516

C-2505

C-2506

C-2507

C-2508

C-2509

C-2510

C-2511

C-2512

C-2513

C-2514

C-2515

C-2516

136-2505

136-2506

136-2507

136-2508

136-2509

136-2510

136-2511

136-2512

136-2513

136-2514

136-2515

136-2516

NO. 6 RW TAPER 3/4" DIAMETER
2

2-1/2

3

3-1/2

4

.731

.731

.731

.731

.731

1-1/4

1-3/4

2-1/4

2-3/4

3-1/4

7/16

7/16

7/16

7/16

7/16

3/4

3/4

3/4

3/4

3/4

C-1608

C-1610

C-1612

C-1614

C-1616

135-1608

135-1610

135-1612

135-1614

135-1616

C-2608

C-2610

C-2612

C-2614

C-2616

136-2608

136-2610

136-2612

136-2614

136-2616

NO. 7 RW TAPER 7/8" DIAMETER
2

2-1/2

3

3-1/2

4

.844

.844

.844

.844

.844

1-1/4

1-3/4

2-1/4

2-3/4

3-1/4

1/2

1/2

1/2

1/2

1/2

7/8

7/8

7/8

7/8

7/8

C-1708

C-1710

C-1712

C-1714

C-1716

135-1708

135-1710

135-1712

135-1714

135-1716

C-2708

C-2710

C-2712

C-2714

C-2716

136-2708

136-2710

136-2712

136-2714

136-2716
D OFFSET NOSE
'D' OFFSET NOSE

RWMA CLASS 1

RWMA CLASS 2

A

Overall
Length

D

Gauging
Diameter

E

Water
Hole
Depth

F

Water
Hole
Diameter

C

Welding
Face
Diameter

Description

Item No.

Description

Item No.

NO. 4 RW TAPER .500" DIAMETER
1

1-1/4

1-1/2

1-3/4

2

2-1/4

2-1/2

2-3/4

3

3-1/4

3-1/2

3-3/4

4

.463

.463

.463

.463

.463

.463

.463

.463

.463

.463

.463

.463

.463

1/2

3/4

1

1-1/4

1-1/2

1-3/4

2

2-1/4

2-1/2

2-3/4

3

3-1/4

3-1/2

9/32

9/32

9/32

9/32

9/32

9/32

9/32

9/32

9/32

9/32

9/32

9/32

9/32

3/16

3/16

3/16

3/16

3/16

3/16

3/16

3/16

3/16

3/16

3/16

3/16

3/16

D-1404

D-1405

D-1406

D-1407

D-1408

D-1409

D-1410

D-1411

D-1412

D-1413

D-1414

D-1415

D-1416

137-1404

137-1405

137-1406

137-1407

137-1408

137-1409

137-1410

137-1411

137-1412

137-1413

137-1414

137-1415

137-1416

D-2404

D-2405

D-2406

D-2407

D-2408

D-2409

D-2410

D-2411

D-2412

D-2413

D-2414

D-2415

D-2416

138-2404

138-2405

138-2406

138-2407

138-2408

138-2409

138-2410

138-2411

138-2412

138-2413

138-2414

138-2415

138-2416

NO. 5 RW TAPER 5/8" DIAMETER
1-1/4

1-1/2

1-3/4

2

2-1/4

2-1/2

2-3/4

3

3-1/4

3-1/2

3-3/4

4

.613

.613

.613

.613

.613

.613

.613

.613

.613

.613

.613

.613

3/4

3/4

1

1-1/4

1-1/2

1-3/4

2

2-1/4

2-1/2

2-3/4

3

3-1/4

3/8

3/8

3/8

3/8

3/8

3/8

3/8

3/8

3/8

3/8

3/8

3/8

1/4

1/4

1/4

1/4

1/4

1/4

1/4

1/4

1/4

1/4

1/4

1/4

D-1505

D-1506

D-1507

D-1508

D-1509

D-1510

D-1511

D-1512

D-1513

D-1514

D-1515

D-1516

137-1505

137-1506

137-1507

137-1508

137-1509

137-1510

137-1511

137-1512

137-1513

137-1514

137-1515

137-1516

D-2505

D-2506

D-2507

D-2508

D-2509

D-2510

D-2511

D-2512

D-2513

D-2514

D-2515

D-2516

138-2505

138-2506

138-2507

138-2508

138-2509

138-2510

138-2511

138-2512

138-2513

138-2514

138-2515

138-2516

NO. 6 RW TAPER 3/4" DIAMETER
2

2-1/2

3

3-1/2

4

.731

.731

.731

.731

.731

1-1/4

1-3/4

2-1/4

2-3/4

3-1/4

7/16

7/16

7/16

7/16

7/16

9/32

9/32

9/32

9/32

9/32

D-1608

D-1610

D-1612

D-1614

D-1616

137-1608

137-1610

137-1612

137-1614

137-1616

D-2608

D-2610

D-2612

D-2614

D-2616

138-2608

138-2610

138-2612

138-2614

138-2616

NO. 7 RW TAPER 7/8" DIAMETER
2

2-1/2

3

3-1/2

4

.844

.844

.844

.844

.844

1-1/4

1-3/4

2-1/4

2-3/4

3-1/4

1/2

1/2

1/2

1/2

1/2

5/16

5/16

5/16

5/16

5/16

D-1708

D-1710

D-1712

D-1714

D-1716

137-1708

137-1710

137-1712

137-1714

137-1716

D-2708

D-2710

D-2712

D-2714

D-2716

138-2708

138-2710

138-2712

138-2714

138-2716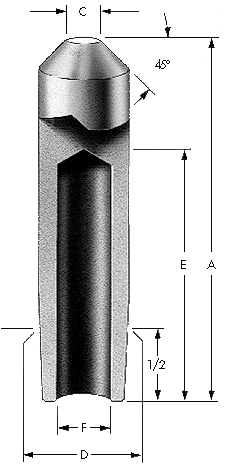 E TRUNCATED CONE
'E' TRUNCATED CONE

RWMA CLASS 1

RWMA CLASS 2

A

Overall
Length

D

Gauging
Diameter

E

Water
Hole
Depth

F

Water
Hole
Diameter

C

Welding
Face
Diameter

Description

Item No.

Description

Item No.

NO. 4 RW TAPER .500" DIAMETER
1

1-1/4

1-1/2

1-3/4

2

2-1/4

2-1/2

2-3/4

3

3-1/4

3-1/2

3-3/4

4

.463

.463

.463

.463

.463

.463

.463

.463

.463

.463

.463

.463

.463

1/2

3/4

1

1-1/4

1-1/2

1-3/4

2

2-1/4

2-1/2

2-3/4

3

3-1/4

3-1/2

9/32

9/32

9/32

9/32

9/32

9/32

9/32

9/32

9/32

9/32

9/32

9/32

9/32

3/16

3/16

3/16

3/16

3/16

3/16

3/16

3/16

3/16

3/16

3/16

3/16

3/16

E-1404

E-1405

E-1406

E-1407

E-1408

E-1409

E-1410

E-1411

E-1412

E-1413

E-1414

E-1415

E-1416

140-1404

140-1405

140-1406

140-1407

140-1408

140-1409

140-1410

140-1411

140-1412

140-1413

140-1414

140-1415

140-1416

C-2404

E-2405

E-2406

E-2407

E-2408

E-2409

E-2410

E-2411

E-2412

E-2413

E-2414

E-2415

E-2416

136-2404

140-2405

140-2406

140-2407

140-2408

140-2409

140-2410

140-2411

140-2412

140-2413

140-2414

140-2415

140-2416

NO. 5 RW TAPER 5/8" DIAMETER
1-1/4

1-1/2

1-3/4

2

2-1/4

2-1/2

2-3/4

3

3-1/4

3-1/2

3-3/4

4

.613

.613

.613

.613

.613

.613

.613

.613

.613

.613

.613

.613

3/4

3/4

1

1-1/4

1-1/2

1-3/4

2

2-1/4

2-1/2

2-3/4

3

3-1/4

3/8

3/8

3/8

3/8

3/8

3/8

3/8

3/8

3/8

3/8

3/8

3/8

1/4

1/4

1/4

1/4

1/4

1/4

1/4

1/4

1/4

1/4

1/4

1/4

E-1505

E-1506

E-1507

E-1508

E-1509

E-1510

E-1511

E-1512

E-1513

E-1514

E-1515

E-1516

140-1505

140-1506

140-1507

140-1508

140-1509

140-1510

140-1511

140-1512

140-1513

140-1514

140-1515

140-1516

E-2505

E-2506

E-2507

E-2508

E-2509

E-2510

E-2511

E-2512

E-2513

E-2514

E-2515

E-2516

140-2505

140-2506

140-2507

140-2508

140-2509

140-2510

140-2511

140-2512

140-2513

140-2514

140-2515

140-2516

NO. 6 RW TAPER 3/4" DIAMETER
2

2-1/2

3

3-1/2

4

.731

.731

.731

.731

.731

1-1/4

1-3/4

2-1/4

2-3/4

3-1/4

7/16

7/16

7/16

7/16

7/16

9/32

9/32

9/32

9/32

9/32

E-1608

E-1610

E-1612

E-1614

E-1616

140-1608

140-1610

140-1612

140-1614

140-1616

E-2608

E-2610

E-2612

E-2614

E-2616

140-2608

140-2610

140-2612

140-2614

140-2616

NO. 7 RW TAPER 7/8" DIAMETER
2

2-1/2

3

3-1/2

4

.844

.844

.844

.844

.844

1-1/4

1-3/4

2-1/4

2-3/4

3-1/4

1/2

1/2

1/2

1/2

1/2

5/16

5/16

5/16

5/16

5/16

E-1708

E-1710

E-1712

E-1714

E-1716

140-1708

140-1710

140-1712

140-1714

140-1716

E-2708

E-2710

E-2712

E-2714

E-2716

140-2708

140-2710

140-2712

140-2714

140-2716

F RADIUS FACED
'F' RADIUS FACED

RWMA CLASS 1

RWMA CLASS 2

A

Overall
Length

D

Gauging
Diameter

E

Water
Hole
Depth

F

Water
Hole
Diameter

C

Nose
Radius

Description

Item No.

Description

Item No.

NO. 4 RW TAPER .500" DIAMETER
1

1-1/4

1-1/2

1-3/4

2

2-1/4

2-1/2

2-3/4

3

3-1/4

3-1/2

3-3/4

4

.463

.463

.463

.463

.463

.463

.463

.463

.463

.463

.463

.463

.463

1/2

3/4

1

1-1/4

1-1/2

1-3/4

2

2-1/4

2-1/2

2-3/4

3

3-1/4

3-1/2

9/32

9/32

9/32

9/32

9/32

9/32

9/32

9/32

9/32

9/32

9/32

9/32

9/32

2

2

2

2

2

2

2

2

2

2

2

2

2

F-1404

F-1405

F-1406

F-1407

F-1408

F-1409

F-1410

F-1411

F-1412

F-1413

F-1414

F-1415

F-1416

141-1404

141-1405

141-1406

141-1407

141-1408

141-1409

141-1410

141-1411

141-1412

141-1413

141-1414

141-1415

141-1416

F-2404

F-2405

F-2406

F-2407

F-2408

F-2409

F-2410

F-2411

F-2412

F-2413

F-2414

F-2415

F-2416

141-2404

141-2405

141-2406

141-2407

141-2408

141-2409

141-2410

141-2411

141-2412

141-2413

141-2414

141-2415

141-2416

NO. 5 RW TAPER 5/8" DIAMETER
1-1/4

1-1/2

1-3/4

2

2-1/4

2-1/2

2-3/4

3

3-1/4

3-1/2

3-3/4

4

.613

.613

.613

.613

.613

.613

.613

.613

.613

.613

.613

.613

3/4

3/4

1

1-1/4

1-1/2

1-3/4

2

2-1/4

2-1/2

2-3/4

3

3-1/4

3/8

3/8

3/8

3/8

3/8

3/8

3/8

3/8

3/8

3/8

3/8

3/8

2

2

2

2

2

2

2

2

2

2

2

2

F-1505

F-1506

F-1507

F-1508

F-1509

F-1510

F-1511

F-1512

F-1513

F-1514

F-1515

F-1516

141-1505

141-1506

141-1507

141-1508

141-1509

141-1510

141-1511

141-1512

141-1513

141-1514

141-1515

141-1516

F-2505

F-2506

F-2507

F-2508

F-2509

F-2510

F-2511

F-2512

F-2513

F-2514

F-2515

F-2516

141-2505

141-2506

141-2507

141-2508

141-2509

141-2510

141-2511

141-2512

141-2513

141-2514

141-2515

141-2516

NO. 6 RW TAPER 3/4" DIAMETER
2

2-1/2

3

3-1/2

4

.731

.731

.731

.731

.731

1-1/4

1-3/4

2-1/4

2-3/4

3-1/4

7/16

7/16

7/16

7/16

7/16

4

4

4

4

4

F-1608

F-1610

F-1612

F-1614

F-1616

141-1608

141-1610

141-1612

141-1614

141-1616

F-2608

F-2610

F-2612

F-2614

F-2616

141-2608

141-2610

141-2612

141-2614

141-2616

NO. 7 RW TAPER 7/8" DIAMETER
2

2-1/2

3

3-1/2

4

.844

.844

.844

.844

.844

1-1/4

1-3/4

2-1/4

2-3/4

3-1/4

1/2

1/2

1/2

1/2

1/2

6

6

6

6

6

F-1708

F-1710

F-1712

F-1714

F-1716

141-1708

141-1710

141-1712

141-1714

141-1716

F-2708

F-2710

F-2712

F-2714

F-2716

141-2708

141-2710

141-2712

141-2714

141-2716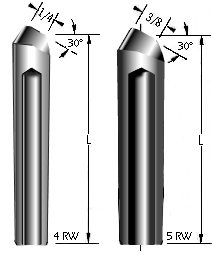 Angled Straight Tips

| | | | | |
| --- | --- | --- | --- | --- |
| Alloy Class | Taper No. | Length 'L' | Description | Item No. |
| 2 | 4RW | 2 | H-2408-30 | 145-2408 |
| 2 | 4RW | 3 | H-2412-30 | 145-2412 |
| 2 | 4RW | 4 | H-2416-30 | 145-2416 |
| 2 | 5RW | 2 | H-2508-30 | 145-2508 |
| 2 | 5RW | 3 | H-2512-30 | 145-2512 |
| 2 | 5RW | 4 | H-2516-30 | 145-2516 |