ADJUSTABLE WATER TUBE USE
It is very important that resistance welding electrodes be kept as cool as possible; excessive heat softens them, allowing the nose to mushroom and weld quality to drop.

Adjustable water tubes are used to deflect incoming coolant water to the full extent of the water hole in the electrode. Before installing a tip, check that there is an adjustable water tube in place and that it is pulled out far enough so that it will contact the end of the water hole in the tip.

The drawing shows a typical straight holder, but the principle is the same for other kinds as well.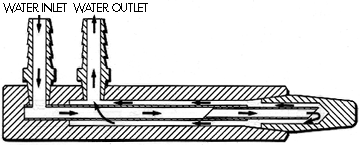 Adjustable water tube correctly positioned in tip. Cold
water will strike the hottest part of the tip first.